Perdido Beach, California is a map in the front of all the Gone books, along with the other map titled the FAYZ.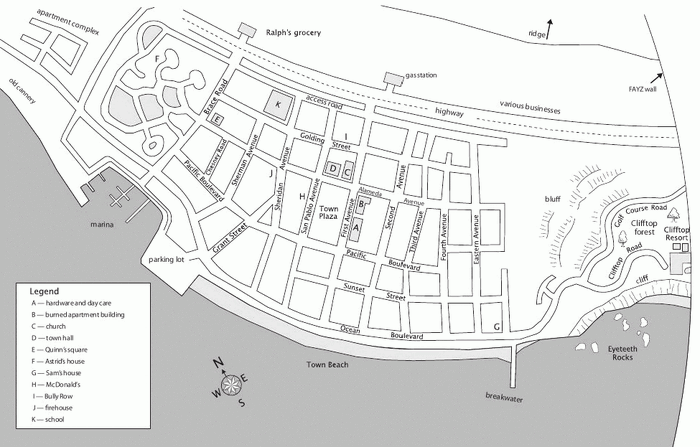 Locations
Edit
Perdido Beach

(as Perdido Beach, California)

Access road
Ace

(as hardware)

Alameda Avenue
Apartment complex
Astrid Ellison's House

(as Astrid's house)

Barbara's Day Care

(as day care)

Bluff
Brace Road
Breakwater
Bully Row
Burned apartment building
Chesney Road
Cliff

Clifftop forest
Clifftop Resort
Clifftop Road
Eyeteeth Rocks

Eastern Avenue
Fourth Avenue
Golding Street
Marina
Ocean Boulevard
Old cannery
Parking lot
Pacific Boulevard
Perdido Beach School

(as school)

Quinn Gaither's square

(as Quinn's square)

 - exclusive to the map
Sam Temple's house

(as Sam's house)

San Pablo Avenue
Second Avenue
Sheridan Avenue
Sunset Street
Third Avenue
Town Beach
Town hall

Trotter's Ridge

(as ridge)
Ad blocker interference detected!
Wikia is a free-to-use site that makes money from advertising. We have a modified experience for viewers using ad blockers

Wikia is not accessible if you've made further modifications. Remove the custom ad blocker rule(s) and the page will load as expected.