Lies: A Gone Novel

Director

Starring

Studio

Distributor

Released

Runtime

2:15
Lies: A Gone Novel is a book trailer distributed by HarperCollins (Egmont for the UK, with a seperate trailer that advertises Lies, the third novel in Michael Grant's Gone series. It was released on the HarperCollins website and on YouTube on April 26, 2010.[1] It is the first Gone trailer distributed by HarperCollins.
The trailer was developed by Jack Paccione Jr,[2] from Escape Goat Pictures.[3]
Albert Hillsborough has a live-action appearance for the first time in this trailer. Howard Bassem and John Terrafino also have cameos in one scene; however, one of their faces is blurry, and another's back is turned. It is unknown which one is Howard and which one is John.
The trailer is narrated by Sam Temple. It starts out with a young boy celebrating his birthday at home, when all of his parents and party guests disappear. It is then shown that all adults have disappeared throughout town, leaving buildings deserted and some infants alone. Sam explains that some of the remaining population (kids that were younger than 15) started developing supernatural powers, including Sam himself, Brianna, and Caine Soren. A town council, consisting of Astrid Ellison, Sam Temple, Albert Hillsborough, Howard Bassem, and John Terrafino, is created to keep the town stable so that kids don't do anything bad. Caine is given as an example of one of those kids. When Caine's life is shown to be threatened by Sam, Sam shows mercy and walks away. However, with his back turned, Caine attempts to use his powers to kill him. Another scene shows Sam in the nuclear power plant, seeing the shadow of Drake Merwin and fleeing.
Sam explains that order cannot always be kept in the place they call the FAYZ, and it is important only to survive in this new world. In the last scene of the trailer, Sam uses his powers to fight off the Human Crew.
Narration
Edit
Sam Temple narrated the trailer:
The video
Edit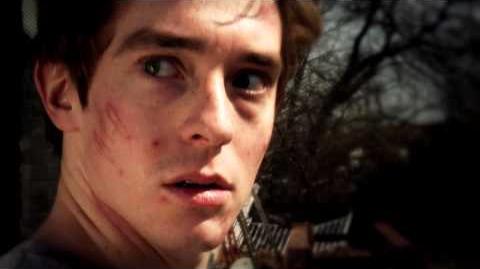 Appearances
Edit
Characters
Edit
Unidentified birthday boy
Miscellanea
Edit
References
Edit
External links
Edit
Ad blocker interference detected!
Wikia is a free-to-use site that makes money from advertising. We have a modified experience for viewers using ad blockers

Wikia is not accessible if you've made further modifications. Remove the custom ad blocker rule(s) and the page will load as expected.